I am forever grateful that I was one of the lucky people who actually got to test several of the first DTG machines on the market way back in the early 2000's. It was instant love for me, and I knew this embellishment would soon garner a place in the decorated apparel industry.
Here we are many years later and the global market for digital printing on textiles stood at $1.54 billion in 2017 and is projected to reach $2.43 billion in 2020.(1)
So, if you are still asking yourself, should I invest in a Direct to Garment printer, I would have to say, absolutely yes. However, timing is everything. Is it the right time for you to invest in a DTG printer now? That, my friends, is the question to answer along with whether or not DTG is profitable for me.
Before we talk about whether DTG is profitable or not, let's first talk about the benefits of adding a DTG printer to your list of services that you offer. If you already do screen printing, one of the benefits to DTG is to be able to offer a one-off sample to the customer before you start a big production of a screen print order. Hard core screen printers gave so much push back when the DTG printers were first released. They were worried, of course, that their screen print equipment would become obsolete, but soon found out it was quite the opposite, is was a great addition to be able to offer DTG for small jobs or even one-offs when their screen print minimums were 12 or even 24 pieces, especially if someone was looking for a full color design. Embroidery companies saw it as a low-cost startup to add printing to their repertoire. It was definitely a no-brainer for anyone already doing heat press emblems, transfers, or dye sub, because they already had the heat press machine.
Once you narrow it down to a couple of different types of machines to invest in, you now need to play the numbers game. How much is it going to cost to get started and when can you expect a return on investment? Some other things to consider in your decision-making process:
Have you surveyed your customers to see if there is a need in your area?

This is also a good gauge to see if they even know the terms DTG, Garment print or digital printing.
It's important that you actually have customer's lined up to purchase DTG apparel, this helps tremendously when you see that first payment due.
Are there other companies in the area offering similar services? Are they doing a good job of it?

Do I need financing?

Can I get financing? From where?

Do I need a machine that prints white for dark shirts?

How much is the pretreat process?

Do I need to accommodate any new electrical outlets or space or other furniture for my setup?
Do you have the manpower to run the equipment?
Are you making a profit now on your other offerings?

If not, this may not be the time to offer something new in addition, but maybe as a replacement.
When you decide it is the right time to invest in a new offering for your shop, DTG is definitely the way to go. Here's a quick example of what you can expect: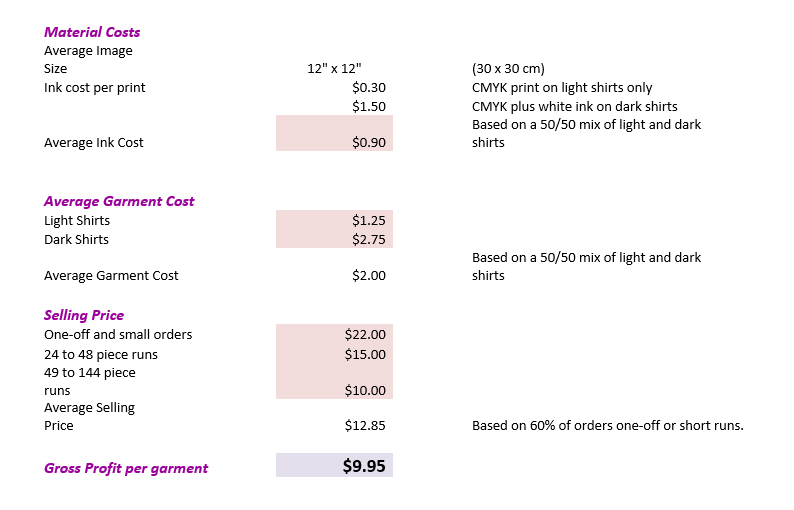 Citations: